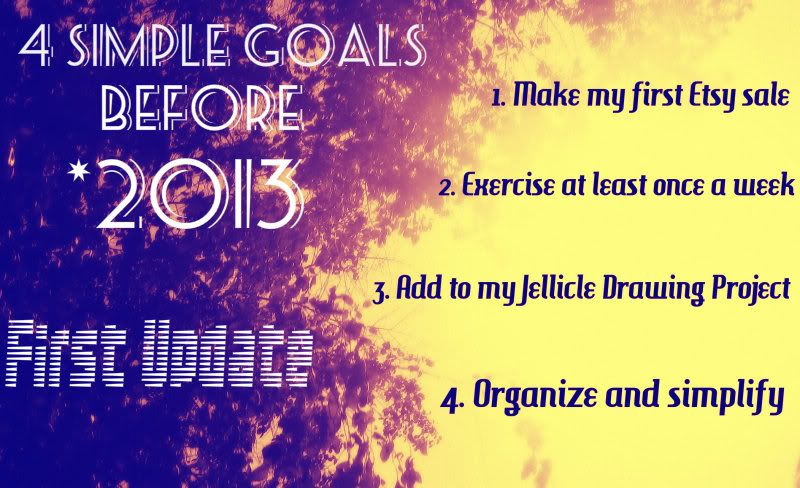 I bet you are all just itching to see how I'm doing on my 4 goals, am I right? No? Remember
this post
? Well today I'm going to let you all know how those are going.
1. Make my first Etsy sale.
Not yet. I have two Nerdy Monster listed
here
and 0 sales. I have improved my SEO and have been participating in the Etsy Holiday Boot Camp. I've made a few seller friends over on Etsy so hopefully this goal won't be a bust.
2.
Exercise at least once a week.
Yeah...this one has not been easy either. I have done some exercise each week but not at all what I would like. I eat right but after work I'm too tired to move my body around. I bought a yoga mat and have been doing yoga from the internet every so often. Sit ups are my go-to exercise when I want something fast. Seriously though, I need to bring up me game.
3. Add to my Jellicle Drawing Project.
Drawing is wonderful and relaxing and calming. I NEED to do it. I just have not yet. I have been re-connecting with the Cats fan community and I even did Cats makeup with a friend last week. I just have not drawn yet. I won't let this goal fall through the cracks though, I will draw!
4. Organize and simplify.
Finally, a goal I am satisfied with my progress so far. heh. Yesterday I went to Ikea with Jim and I bought a new desk!! It is shorter than my current desk so now my sewing table will fit in the bedroom next to it. I set it up last night and that forced me to ORGANIZE. I went through exactly half of my craft supplies. I threw some stuff out, I'm going to give some stuff away, and the rest now has a designated spot!
I hope you all enjoy the update. Now, go comment on my last blog about
Lifestyle Blog Tropes
, I need at least one person to give me their opinion =P
Thank you, you are all wonderful!
J.