For the last two weeks I have been talking about Geek Acoustic night at Bar Pico. The concert was last Friday and it was simply awesome. The first two musicians were solo acoustic acts and the next two were not-so-acoustic full bands. Everyone was a bit geeky though.
The first person to go on was Clark Chimp. Out of all of the acts he was the only new person to me so I didn't know what to expect. He played guitar and sang songs about being an extraterrestrial chimp. His music was mellow and cool and when I talked to him after the show he was a really nice guy. (Whoo, new musician friend!) He also has comics and cartoons which I can't wait to check out.
The second act was Hello the Future.
I've written about her before
and she was just as lovely as the first time I saw her play live. Something about Bar Pico brought out a bit if her more rock side, or maybe it was just the leather seats of the venue. I was sitting with my friend Franz and he knew more of her references than I did. (The songs about webcomics). Franz and I are both avid Firefly fans so her Firefly related songs were among our favorites from the night.
The first full band of the night was my friend Tim and his band Artichoke.
As I said last week
, their music is a perfect blend of geeky and insanely cool. The line up was a bit different but Chris Gonzalez was there rockin' on bass as per usual. They just released a new album 'Etchy Sketchy Skies' which I made sure to not leave home without.
The final band was non other than The Long Holidays. I plan to do a full article about them at some point. I actually wrote a guest post about them at
The Owls Den
recently. The Long Holidays, though they sung about science and history, were kind of the bullies of Geek night. I mean this in the best way. They riled things up and even got half of the audience dancing and playing music with them at the end (including the previous musicians). They sung about vikings, astronauts, doppelgangers stealing their ladies, and more.
Tim from Artichoke and Nicole from Hello the Future helping The Long Holidays percussion section.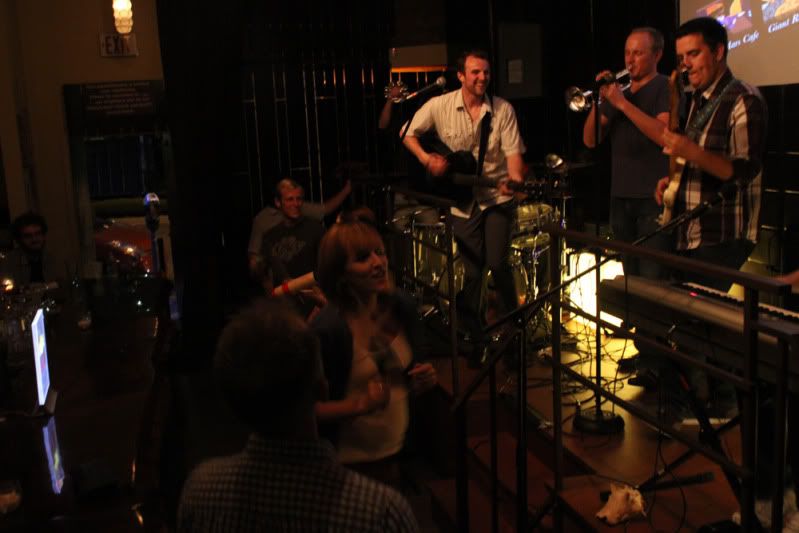 The last song of the night, 'Viking Funeral'
Chark Chimp:
http://clarkchimp.com/
Hello the Future:
http://www.hello-the-future.net/
Artichoke:
http://artichoketheband.com/
The Long Holidays:
http://thelongholidays.com/